This Date in Irish History - August 27th
August 27th -
1798 - In one of Irish history's most
famous battles,
General Humbert
's
800 French soldiers and 1,500
Irish soldiers defeated an English force
of 6000 at Castlebar, Co. Mayo in what
would be later known as "The Races
at Castlebar".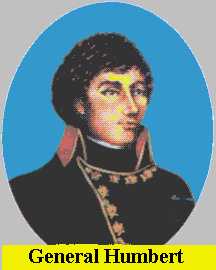 1971
- Joseph Corr, a Catholic civilian, died sixteen

days after
being shot by the British Army in

Ballymurphy, Belfast.



1972

 

- In Belfast, civilian Thomas Boyd
was shot and killed by the UDA.
A British soldier was shot and killed by
an IRA sniper at the Creggan Heights
British Army base in Derry.




1974

 

- IRA Volunteer Patrick McKeown died
in a premature bomb explosion in a house
in Newry, Co. Down.



1976

 

- Three members of a Catholic family,
Joseph Dempsey (22), Jeanette Dempsey (19)
and Brigeen Dempsey (10 months), were
killed in a petrol bomb attack on their home
in Hillman Street, New Lodge, Belfast.
The attack was carried out by Loyalists.



1978

 

- Approximately 10,000 people took part
in a march from Coalisland to Dungannon,
County Tyrone, to commemorate the first
civil rights march 10 years earlier.

1979 - In two devastating attacks, the IRA
ambushed and killed 18 British soldiers and
executed the former Viceroy of India and
cousin of the British Queen, Lord Louis
Mountbatten. Mountbatten and three other
members of his boat party were killed when
a 50lb, remote-controlled bomb blew up his
yacht, the Shadow V, at Mullaghmore,
County Sligo. Mountbatten had served as
Chief of Britain's Naval Staff and Chief of the
United

 Kingdom Defence Staff.


In a statement claiming responsibility for the attack,
the IRA said the bombing was "a discriminate
operation to bring to the attention of the English
people the continuing occupation of

 our country".


The Mountbatten execution, which struck at the
very heart of the British establishment, was followed
by an IRA ambush at Narrow Water near Warrenpoint,
County Down, which resulted in the deaths of
18 members of the British Army's Parachute

 Regiment.


In the Narrow Water ambush a 500lb bomb planted
in a lorry loaded with hay was detonated by the IRA
as a British Army convoy passed, killing six Paras.
A second explosion damaged a British helicopter
carrying members of a quick reaction force and killed
twelve more troops. It was the most successful IRA


attack against British forces in 58 years.


The ambush at Narrow Water was followed by wild
and indiscriminate shooting from the British Army
across the nearby border with the 26 Counties, during
which an uninvolved civilian, Michael Hudson, was shot
and killed.


Loyalists responded to the Warrenpoint and Mountbatten


bombings with a series of random killings of Catholic
civilians.

1995 - A man was admitted to Tyrone County Hospital
with broken ribs and kidney damage following a vicious
assault by loyalists at the weekend. His son was also
admitted after being struck in the chest by a plastic bullet
fired by a member of the

 British Crown Forces.



1996 - The homes of two nationalist families in Derry
were attacked by petrol-bombers. RUC member David
Frederick Gamble, who gave his address as Strand Road
RUC barracks, was charged at Derry Crown Court with a
number of counts of

 theft and possession of arms. 





1997 - Relatives of the 33 people killed in 

bombings in
Dublin and Monaghan on May 17th, 1974 failed in their
court attempt to get the Garda Síochána to release the
files on their

 investigations of the bombings. 





2000 - A former member of British military intelligence


revealed that weapons used by loyalist gangs who
rampaged through Belfast's Shankill district the previous
week were provided by

 British

 intelligence as part of a plan
to defeat the IRA.